Keep Away from Cervical Cancer; Caring for Women
●
The relationship between "HPV" and cervical cancer:
The relationship between HPV and cervical cancer is equivalent to the relationship between cause and effect, because only HPV virus infects the cervix for a long time, which gradually leads to cervical lesions and finally cervical cancer. More than 100 types of HPV have been isolated, at least 14 of which can cause cervical cancer or other malignancies. Globally, high-risk HPV subtypes l6 and 18 can be detected in most cervical cancers, with HPV subtype 16 having the greatest potential to induce cancer.
●
How to prevent it effectively?
a. Vaccination:
The most comprehensive vaccine available on the market today is the nine-valent HPV vaccine, which means it protects against nine subtypes of HPV infection.
b. HPV Typing Screening:
The significance of typing screening is the word "early"
The earlier it is detected, the easier it is to cure.
The earlier it is detected, the less damage it will cause.
The earlier it is detected, the less painful it is.
Miraclean new package of
HPV sampling swab
.
●
Strictly control each production process, continue to improve and enhance the female user experience,
●
Give care and responsibility to the product,
● Take practical action to practice the care of women's health.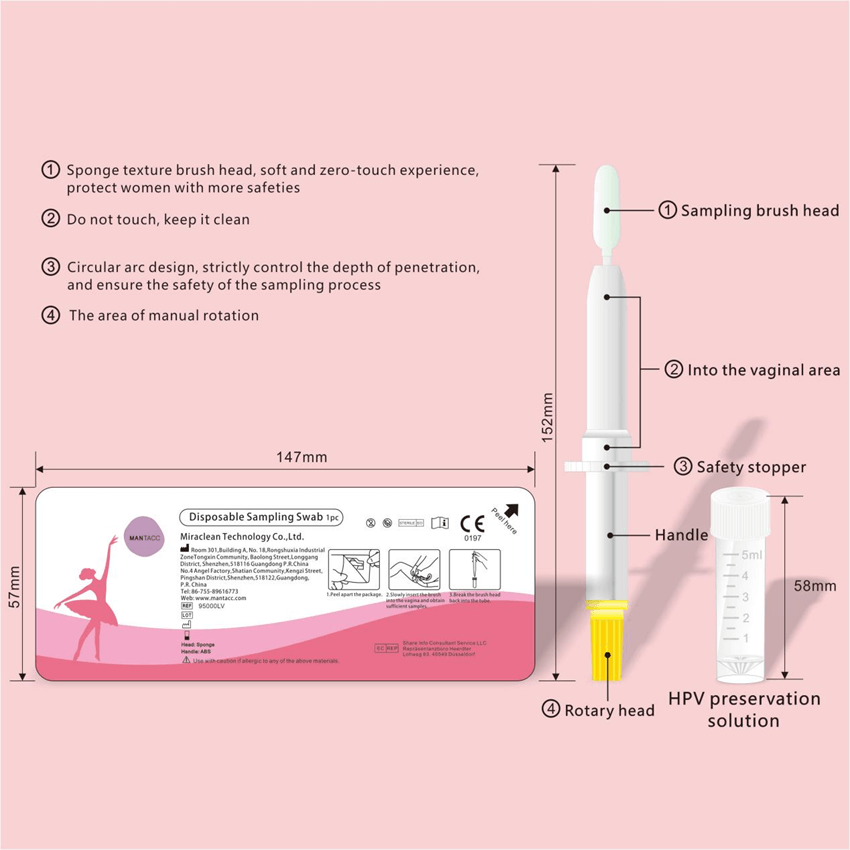 1. Self-sampling HPV test at home opens a new era
"Self-sampled specimens" are obtained through vaginal sampling by the subject himself. Instead of traveling long distances, making appointments, picking up numbers, and waiting in line for the doctor to take the sample, the patient takes the sample at home, mails the sample, and then checks the results online.
After self-checking the results, the HPV results are triaged and positive patients require liquid-based cytology or a repeat combined HPV test, reducing the need for invasive colposcopy while maintaining high sensitivity.
2.Self-sampling cervical brush swab at home
3. Increasing the acceptance of cervical cancer screening
Self-sampling reduces the costs incurred by patients during medical visits, is highly convenient, and the sampling location can be chosen by the patient, giving them a greater sense of privacy and autonomy.
4. High Feasibility
In China, HPV self-sampling screening will also become mainstream. "Self-sampling" enhances the convenience of cervical cancer screening, saves the cost of screening, increases the coverage of screening population, enhances cervical cancer screening, and makes it possible to carry out cervical cancer screening in resource-poor areas.
5.HPV preservation solution
In addition to gynecological self-sampling tools, we also have a series of female vaginal secretion sampling swabs with different sample preservation solutions, which are the preferred sampling tools of major hospitals and testing institutions, and their quality is well received by users.
Related Topics: Why we should do the HPV test ?