What You Need To Know About The 'Tripledemic'?
What You Need To Know About The 'Tripledemic'?
This 'tripledemic' of influenza, COVID-19, and respiratory syncytial virus (RSV) infections has competely overwhelemed
many pediatric and adult hospitals, disrupted attendance at school, daycare, and work, and left families feeling weary and anxious about how to keep their loved ones safe from repeated sickness, particularly as the colder months drive more people indoors and create ideal conditions for viruses to spread.
Not only is the surge in the disease happening at a higher rate this year, but it's far earlier than the typical seasonal peak. RSV cases are 60% higher than the virus' peak in 2021, and flu hospitalizations are the highest in a decade. RSV is common -- most people have been infected with it at some point in their lives -- and it usually causes mild symptoms at best, but young children, the elderly, and people who are immunocompromised are most at risk of serious complications.
Content:
1.What is 'tripledemic'?
2.The consequences of 'tripledemic'.
3.How can people stay safe?
4.What should hospitals do?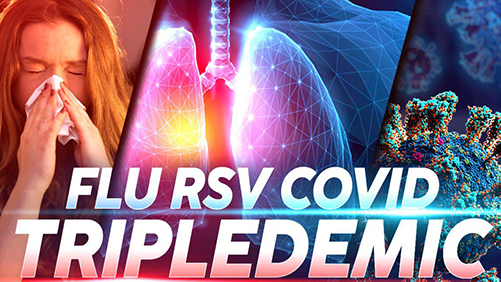 What is 'tripledemic'?
It simply refers to a collision of RSV (respiratory syncytial virus), flu, and COVID-19 to the extent that it might overwhelm hospital emergency departments.
The consequences of 'tripledemic'.
Most cases of Covid, flu and R.S.V. are likely to be mild, but together they may sicken millions of Americans and swamp hospitals, public health experts warned.
Older adults, immunocompromised people and pregnant women are most at risk, and young children are highly susceptible to influenza and R.S.V. Many infected children are becoming severely ill because they have little immunity, either because it has waned or because they were not exposed to these viruses before the pandemic.
How can we stay safe?
First and foremost, please do your part and make sure you received the flu shot and updated COVID-19 vaccines. Being up to date on vaccinations, knowing about your treatment options, and being vigilant by masking and testing can all contribute to lessening the burden of this 'tripledemic'.
What should hospitals do?
'Tripledemic' in U.S. could bring deluge of patients to hospitals. Hospitals should prepare now by stockpiling supplies, such as new beds for kids, oral swabs for sampling collection, vaccines and so on.Second, prepare for a child emergency and additional doctors and nurses for support.
Many experts say they expect a resurgence of COVID-19 this winter. In America, the number of new daily reported cases is up nearly 70% from the previous month, even as the coronavirus landscape continues to shift. The CDC estimates that BA.5—long the dominant Omicron subvariant in national prevalence—has been surpassed by its two descendants, BQ.1 and BQ.1.1.